SAFE-LOCK - THE PULL OUT PROTECTION FOR YOUR solid shank tools
High performance machining (HPM) of difficult to machine materials and new machining concepts are demanding for tool holding systems. Slow micro-creeping movements can pull the tool out of the chuck due to the high degree of axial forces.
Even frictional clamping methods with extremely high clamping forces can often not prevent micro-creeping. Thus, high quality work pieces become scrap.
As a consequence, the cutting data on the machine tool is often reduced. Therefore the maximum performance limit of the machine tool cannot be reached; machining becomes ineffective.
On the safe side with Safe-Lock:
For High Performance Cutting (HPC)
Highly accurate clamping with best runout accuracy due to shrink fit technology
High torque due to form closed clamping
No loss of accuracy
No pull out of the tool
No spinning of the tool
No damages on work piece or machine
Groove on tool shank is directed so that tool will be pulled into the chuck (depending on direction of rotation)
Patent granted: licensing for cutting tool manufacturers possible
The Safe-Lock System is the Industry's new standard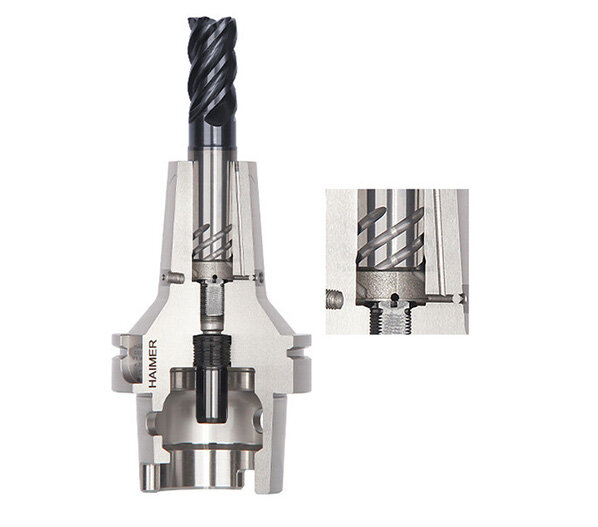 In the Safe-Lock (Safe-λock®; S-λ®) System, special drive keys in the chuck and grooves in the tool shank prevent the milling cutter from spinning during extreme machining or that it is pulled out of the chuck.
In addition to the frictional clamping forces of the particular clamping system, the tool is held using positive locking in the tool holder through the constructive design of the Safe-Lock System.
The combination of pull-out protection and best runout accuracy lead to a low vibration and as a result very efficient machining.
Due to the increased cutting depths and feeds, the metal removal rate can be increased by up to 100%, and to a similar degree tool wear decreases due to the excellent runout characteristics.