Always one step ahead with innovations: The evolution of collet chuck technology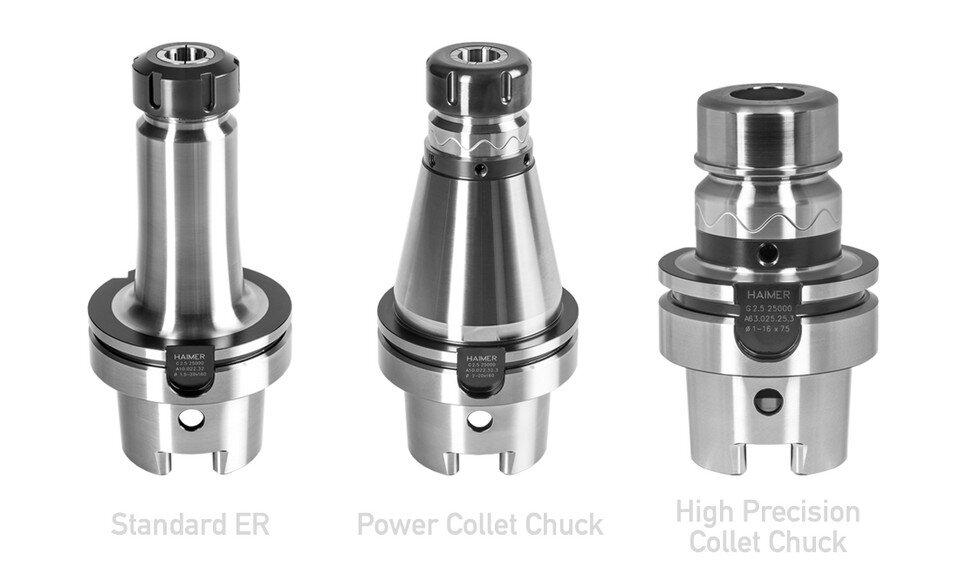 Similarly to the Shrink Fit Chucks HAIMER has also developed the existing technology of Collet Chucks further. The universally applied standard ER Collet Chucks which you still can find on almost every milling machine were optimized by HAIMER in regards to design, precision and safety.
The Power Collet Chucks are Collet Chucks designed for high speed cutting (HSC) – an alternative to the reinforced shrink fit chucks of the power series. Their usage is versatile – for almost any finishing, roughing and drilling application. Power Collet Chucks offer a reinforced wall thickness and extra rigid outer contour and are therefore stable and resistant to vibrations. The inner contour is designed so that all standard ER collets can be used. However, the chucks only achieve maximum performance with even more precision < 0.003 mm and higher cutting capacity when using the specifically developed HAIMER high-precision collets. The Power Collet Chuck can optionally be equipped with Safe-Lock and offer therefore maximum tool pullout protection.
With the High Precision Collet Chuck especially for micro and fine machining a new standard has been set. The optimized design is featured by highest runout accuracy of less than 0,003 mm providing best surface finish at high rpm.
The specially coated locknuts (fine balanced to < 1 gmm) guarantee for vibration dampening and noise-reducing features in high speed cutting, e.g. in the watchmaking or medical industry. This protects machine, spindle and tool.