Cool Flash cooling system– Coolant taken to the top
True to the slogan "make good things even better", HAIMER has developed the Cool Flash system out of the existing Cool Jet system. In contrast to the Cool Jet system the coolant is pressed out by several slots, floats around the shank via the chip flute and cools up to the cutting edge! Therefore this cooling method is particularly suitable for high spindle speeds.
With this video you will learn about the functionality and the benefits of the highly effective HAIMER patented cooling system Cool Flash. Cool Flash ensures optimum cooling right up to the cutting edge of the tool. Visit the HAIMER YouTube channel to watch more product and application videos.
The goal of the development of the Cool Flash system was to transport the coolant directly to the cutting edges. Even for existing machine tools with an average pressure of approx. 20 bar, Cool Flash allows for reliable and precise cooling without any changes of the cooling system of the machine tool.
Benefits at a glance
Coolant directly to the cutting edge
Extended tool life up to 100 %
For maximum process reliability
Eliminates balls of chips on the cutting tool
Also for high rpm
Optimized runout accuracy! No additional unbalance! No disturbing clearance!
For tools from diam. 6 mm up to 50 mm
Optimized coolant bores with coolant outlet through slots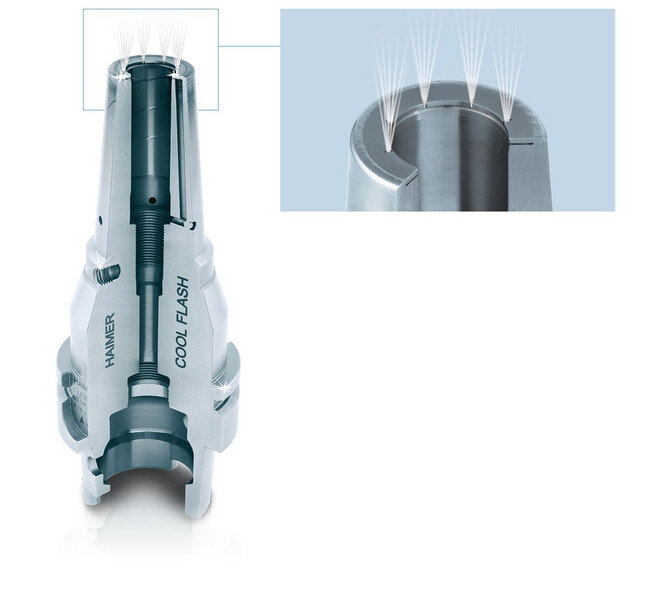 COOL FLASH VS. INTERNAL TOOL COOLING
| | Cool Flash | internal tool cooling |
| --- | --- | --- |
| Cooling range at the cutting edge | 100% | max. 30-40% |
| Tool stability | maximum | reduced |
| Application range | variable | per cutting tool |
| Diameter area | from 6 mm | from 12 mm |
| Acquisition cost | per tool holder | per cutting tool |
Three systems for cutting tool cooling in comparison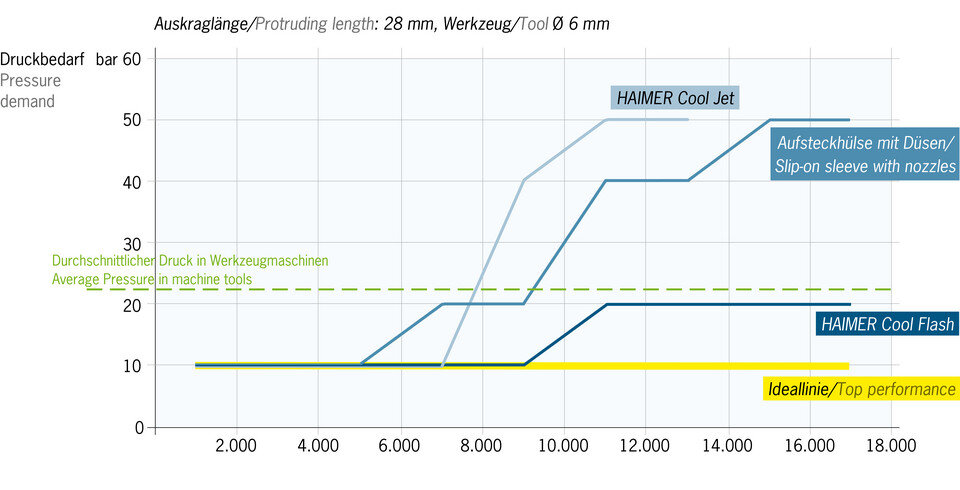 The graphic shows the optimized supply of the cutting edges for different systems by comparing dependence of pressure and rmp. Even at low pressure and high rmp Cool Flash assures precise cooling. On competitive systems, higher rmp require higher pressure to generate effective cooling.